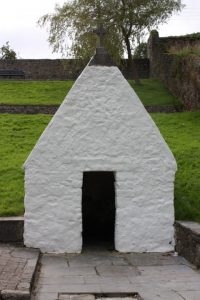 St. Canice's Well commonly called Kenny's Well, is located a few hundred yards south-west of the Black Abbey on the Kenny's Well Road. It has been known as a holy well probably from the time of St. Canice. Geoffry de Tourville, Bishop of Ossory from 1244 – 1250, granted a conduit of water from the well to the Friars of The Black Abbey. Hugh his successor (1251 – 60) gave the entire charge of the Well and the field containing the well to the Friars.
In his "De Praesulibus Hiberiae", compiled about 1676, Archdeacon Lynch notes the following, "The well is situated at the base of a hill with a steep incline. Over it is an arched building furnished on the inside with stone benches. A stream of water flows uninterruptedly from there into the adjacent Braegach River.
Those who labouring under any infirmity, came here to implore the intercession of St. Kenny, having drunk of the health giving water of the Holy Well and invoked the Divine help, have been very frequently restored to perfect health."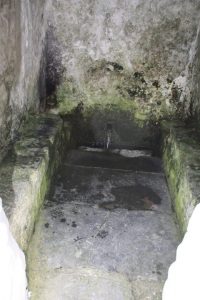 From the above account, it is clear that the stone roofed structure over the well dates as far back, at least, as the 17th Century. It is probable that it dates from even a very much more remote period. (Source History and Antiquities of the Diocese of Ossory, Vol. 111 Carrigan. P190)
To this day the Well is used by many as a Source of drinking water, though for safety it is advised that this water is boiled before consumption. The Holy Sacrifice of the Mass is celebrated annually at the well on August, 15th, the Feast of the Assumption of the Blessed Virgin Mary.