St Canice (c. 525-599 AD) is patron of the church, parish and city. Variations of his name include Cainneach, Canisius, Kenny and Kenneth. He was born in Co Derry. Though his people were poor he studied at Clonfert under Finian and at Glasnevin under Mobhi. A deep friendship developed between himself and Colmcille, with whom he worked for a time in Scotland, where he set up a number of churches. In Ireland his principal foundation was in Aghaboe in Ossory, but this was replaced in later centuries by his church in In Ireland his principal foundation was in Aghaboe in Ossory, but this was replaced in later centuries by his church in Kilkenny. His Feast day is celebrated on the 11th October.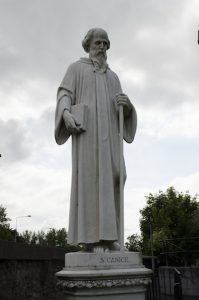 In 1731 records show that there was one old "Mass House" in St Canice's parish which was rebuilt as a chapel in 1747. The concept of building a new parish church began to take root around 1820. On March 19th that year, a small group of parishioners met in the old chapel and agreed that it would be good thing to build a new church as the old chapel had by now fallen into a state of disrepair and decay. A general meeting of all parishioners was called for one week later, and at that meeting it was agreed to plan ahead for the new church. Fundraising began in earnest the same year, by means of collections from householders and landowners in the town and country districts of the parish. In those days, contributions received were recorded under the headings "Town Collections" and "Country Collections". Donations towards the cost of building the new church were also invited.
A site opposite the old chapel at a n area called Coolreigh (Coolree), the property of Hon. Joseph Pratt andViscount Duncannon, was deemed to be the most suitable location for the new church. On March 25th 1822 this land was leased at a rent of £40 per annum. This lease was later purchased outright in 1891. It was agreed that building materials should be sourced locally – stone to be quarried at Holdensrath and sand to be raised at Kilkreene. The owner of the stone and sand, Sir William Montmorency, was very favourably disposed to this parish project. The plan for the new church, drafted by William Robertson, Architect, Kilkenny, was considered at a meeting of all parishioners on April 7th 1822 and adopted.
The foundation stone was laid on the Feast of St Patrick, March 17th 1824 by Fr James Gorman, Parish Priest. At the date of his death, April 19th 1826, the sum of £1,389/17/2 (thirteen hundred and eighty nine pounds, seventeen shillings and tuppence) had been spent on the new building. Fortunately his nephew Fr John Gorman was appointed to succeed him as Parish Priest by the then Bispop of Ossory, Most Reverend Dr Kieran Marum. The new PP was rotally committed to completing the task begun by his uncle.
A record of the exact date when the church opened for public worship has yet to be found. Account book records indicate the furbishment of the church took place over several years – doors and windows installed in 1829, altar (costing £24/11/8 (twenty four pounds, eleven shillings and eight pence)), porches and side doors installed in 1934 and painting and varnishing taking lace in 1839.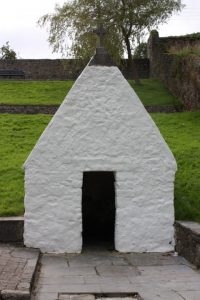 Funds were very sparse around 1830 and fundraising efforts included selling grave plots in the grounds of the new church (a plot 6 feet by 7 feet cost £5, later increased to £10). in 1830 the "Pound Side" of the aisle was introduced. Fr Gorman sought approval of parishioners at a meeting in 1831 to raise a bank loan of £100 to continue work on the new church. In the same year, letters requesting donations from persons inside the parish and beyond its boundaries yielded a return of £101/16/- (one hundred and one pounds and sixteen shillings).
In August 1891 it was agreed to hold an annual church expenses collection on the last Sunday in August for church maintenance, with the guideline set at "half a half years dues".
When you have visited the church, a visit to the Holy Well (on Kennyswell Road) that bears the saints's name is recommended, if you wish to drink deeply of the solitude, silence and prayerful reflection St Canice experienced in that sacred place.